Bilas Exposed!!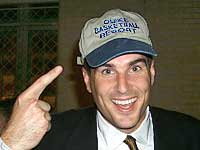 While Wilbon was busy making the claim to Jay Bilas that at some point Buck Williams and/or Sam (doin' the butt) Perkins achieved the same 26 point/24 rebound stat that Sean May got yesterday in UNC's amazing comeback against Duke, my thought wasn't that Wilbon was full of shit, but that Jay 'Always full of shit' BILAS was full of shit. At one point, Bilas boasted that it took him THREE games to get TWENTY FOUR rebounds. Yes, terribly disappointing for loudmouth Bilas to only get EIGHT rebounds per game, IF THAT WERE TRUE... (gasp, murmur).
According to the
cold, hard statistics
, Mr. Bilas in his best season of 84-85 only managed to pull down a Antonio Lang, Alaa Abdelnaby-esque SIX rebounds a game, which, by my math would only get you EIGHTEEN over a three game period.
So Jay? When was this mystical season when you averaged 24 rebounds over a three game period and were 1/3 as good as Sean May? When are you going to admit that you're Greg Koubeck with a smart haircut?