Defending against MP.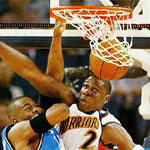 From Warriors training camp:
French defensive specialist Mickael Pietrus told the media yesterday, "I've been here for now three years and it's time to see the real MP." (I think that stands for Mickael Pietrus.) "I don't need to start, I need to finish the game. People watch on TV the games, they don't watch the first quarter, they watch the fourth quarter. And when the game is tied and you make (the) big shot? Now you'll see who's the real player."
Hey, I love the Warriors, and am looking forward to them making the playoffs this year, but someone has to let MP know that just because he an Tony Parker came in third at the European Championships this summer, it hasn't changed the end-of-game Hierarchy in Oakland.
It still looks like this:
Jason Richardson
Baron Davis
Derek Fisher
Mike Dunleavy
Troy Murphy
MP, maybe Ike Diogu
So unless they start letting 6 players in at once, looks like MP will have to continue to watch crunch-time from the bench. But I like your spunk, kid!

Also from Warriors Media Day, check out this photo of Dunleavy, part of a new promotional campaign: