Joy in Oaktown!
Finally, after years of playoff exclusion (including this year), Warrior fans actually have reason to take the barrel of the gun off their temple and look forward to something.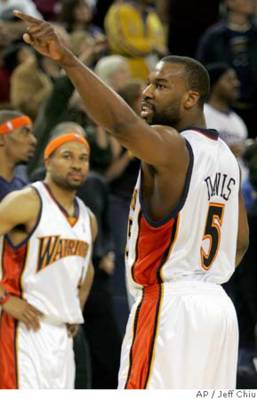 A couple years ago, I was commenting to a friend about how wherever Jason Kidd goes, the team immediately improves. -Not unlike the way Jason Williams improved the Grizzlies, Mike Bibby did so for the Kings, and we all know what Steve Nash did for Phoenix this year. It seems, like no other position in basketball, having a quality point guard can dramatically change a team's fortunes. Conversely, there are plenty of 2 guards in the league who can have great games and watch their teams lose night in, and night out (I'm looking at you McGrady and Vince Carter!). The effect a good point guard has on a team usually shows up in the win column.
That's what the Warriors are realizing now. Don't ask me how they did it, but
acquiring Baron Davis
for Speedy Claxton and Dale Davis was a historic trade for them. Redemption for the Joe Barry Carroll/Robert Parrish trade? I hope so. Better yet, Davis was excited to play in Oakland! Maybe because he was coming from the lowly New Orleans Hornets, maybe because he's from California, maybe hypnosis, brain-conditioning,
island voodoo
, whatever! All I care is, he's across the Bay, turning the perennial lottery-bound Warriors into a playoff contender next year.
That's right, contender! In fact, I'd say the Warriors are a
LOCK
to make the playoffs next year, and I've been
sober
for 8 days now! They're currently on an 8-game winning streak, which includes wins over playoff teams Houston, Seattle, and league-leading
Phoenix
last night (their second straight win over the Suns). Of the last 14 games, the Warriors have won 12.
And the future looks bright. Along with Davis (age 25), there's a core of young talent that should have plenty of time to develop together, including Jason Richardson (24),
Mike Dunleavy Jr.
(24), Troy Murphy (24), Mickael Pietrus (23),
Zarko Cabarkapa (23),
Nikoloz Tskitishvili (21), and the youngest player in the league,
Latvian and 11th overall pick in last year's draft, Andris Biedrins (19). A little added benefit of Biedrins, he's actually grown into a 7-footer since he was drafted, when he was listed at 6' 11". Even
poet
Adonal Foyle seems to be contributing recently.
The only down-side to the Baron Davis deal is, it makes last year's
signing of Derek Fisher
unnecessary, which is a situation I can live with. In fact, it's interesting watching Mike Montgomery play two quality point guards at the end of games. Still, it would be great for everyone if the Warriors could move Fish in the off-season, even if it was for a draft pick. I'm sure some team would love to have his leadership, but 5 more years on a $37 million contract for the 30 year old makes him all but untradeable. Hey, Mullin had no idea he would land Davis when he made the Fisher deal, so it's completely forgivable.
So am I aiming too high? Breaking an 11 year playoff drought next year, in the loaded Western conference? I think not!
On the Side...
Congratulations to Tony yesterday on his eloquent imagery when he said the over-weight Riddick Bowe now looks like "a mudslide."