The Brushback was Right!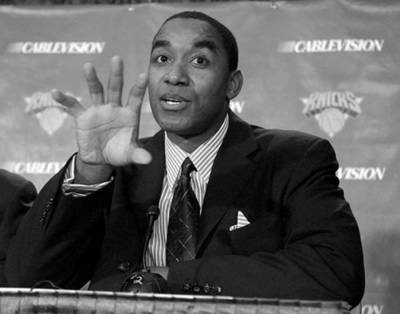 Next time someone says reality is unpredictable, you know you're not talking to a comedy writer. As we pointed out, the funniest headline from this week's
Brushback
was "
Report: Isiah Thomas About To Do Something Really Stupid
" So, with all the "insider" talk about how Jalen Rose was on the Raptors' trading block, today Isiah traded for Rose.
Malik Rose.
At first I thought this was funnier than actually trading for the wrong Rose, because my initial reaction was, "Isn't Malik Rose dead?" Then I remembered, it's Malik Sealy who's dead. Still, the fact that that crept into my mind illustrates the depths of stupidity I believe Isiah Thomas is capable of.
Back to reality, the first Knick trade (2 in all) sends Nazr Mohammed and Jamison Brewer from the Knicks to the Spurs for Malik Rose. The second sends Vin Baker and Moochie Norris from the Knicks to the Rockets for Maurice "Don't call me Tractor" Taylor. Along the way, the Knicks pick up the Spurs' #1 pick in 2006 and the Suns' #1 pick from 2005 (from the Spurs).
Clearly, the best part of this trade for the Knicks is the two first round picks they managed to secure. That's great, right? Well, not if those two picks are from the odds-on favorite to win it all, the San Antonio Spurs, and #2 in the power rankings, the Phoenix Suns. Even if those teams don't go deep into the playoffs, the Knicks have made a mockery of the draft, with much better picks.
Here's a look at their last 5 years of first round picks:
2004 - No pick
2003 - 9th overall, Mike Sweetney, Georgetown
2002 - 7th overall, Nene Hilario, who they promptly traded (along with Marcus Camby and Mark Jackson) to Denver for Antonio McDyess and their pick, Frank Williams (Knick fans will immediately start hyperventilating if you bring this trade up to them, so have a brown bag ready)
2001 - No pick
2000 - 22nd overall, Donnell Harvey (oh, Jesus! here we go again), who they packaged along with "Big Daddy" John Wallace to Dallas for Erick "Don't call me Rod" Strickland and the rights to Pete Mickeal, whoever the hell that is (still got that brown bag handy?).
Point is, all those picks were higher than the ones they're about to get from San Antonio & Phoenix. Enjoy them the best you can, Isiah!